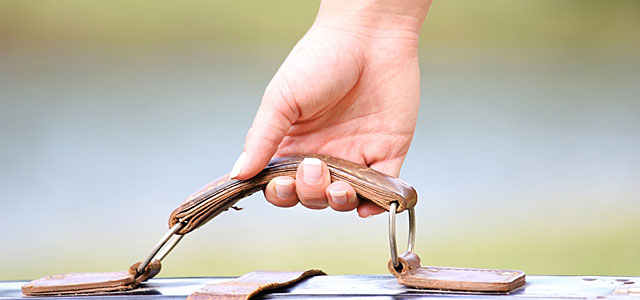 Now when they saw the boldness of Peter and John and perceived that they were uneducated and untrained men, they marveled. And they realized that they had been with Jesus. ~ Acts 4:13
READING: Mark 3:13-19
Before one of our many car trips, I remember my dad packing the trunk. Suitcases and accoutrements adorned the driveway and he began methodically arranging them in the trunk. If he didn't like the way the bags fit in, he took them out and started over. His system was pretty simple: flat items first, then odd-shaped items to fill in corners.
I never decided to enjoy packing; it just seemed to flow from my father's veins into mine. Somehow the challenge of fitting a lot of stuff into a limited space turns me on. It's a good thing, since my wife is convinced that we have too much stuff for the size of our apartment.
What are we imparting to our spiritual sons and daughters? Even if we've established Bible colleges or leadership training centers, our students pay more attention to who we are than to what we say. My dad never said, "Here, son, I'm going to teach you how to be a packer." He just did it and did it well. And I wanted to do it like he did.
There's no substitute for shared life. When we open our heart, our home, our schedule, our resources, our weaknesses, our strengths, our failures and our victories to our spiritual kids, they internalize who and what we are.
When Yeshua said to "Go, make disciples," He could have added "like I did." His was a "course for life" ministry leadership training experience they would never forget.
Father, As I invest myself in people who have a call on their lives to pioneer, help me to hold nothing back, but nurture and correct them and release them into their destiny in you. Amen.
Dynamic Church Planting International (DCPI) "Equips Leaders to Plant 5 Million Churches Worldwide." Learn more