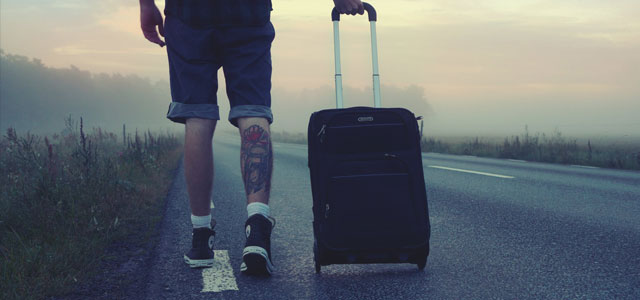 5. Your love doesn't look like love.
Love seems to be a pretty big deal to you, but we're not getting that when the rubber meets the road. In fact, more and more, your brand of love seems incredibly selective and decidedly narrow; filtering out all the spiritual riff-raff, which sadly includes far too many of us.
It feels like a big bait-and-switch sucker-deal; advertising a "Come as You Are" party, but letting us know once we're in the door that we can't really come as we are. We see a Jesus in the Bible who hung out with lowlifes and prostitutes and outcasts, and loved them right there, but that doesn't seem to be your cup of tea.
Church, can you love us if we don't check all the doctrinal boxes and don't have our theology all figured out? It doesn't seem so.
Can you love us if we cuss and drink and get tattoos, and God forbid, vote Democrat? We're doubtful.
Can you love us if we're not sure how we define love, and marriage, and Heaven, and Hell? It sure doesn't feel that way.
From what we know about Jesus, we think he looks like love. The unfortunate thing is, you don't look much like him.
That's part of the reason people are leaving the church.
These words may get you really, really angry, and you may want to jump in a knee-jerk move to defend yourself or attack these positions line-by-line, but we hope that you won't.
We hope that you'll just sit in stillness with these words for a while, because whether you believe they're right or wrong, they're real to us, and that's the whole point.
We're the ones walking away.
We want to matter to you.
We want you to hear us before you debate us.
Show us that your love and your God are real.
Church, give us a reason to stay.
It's not you, it's me.
That's what you seem to be saying, Church.
I tried to share my heart with you; the heart of me and thousands and thousands of people like me who are walking away, to let you know of the damage you're doing and the painful legacy you're leaving, and apparently, you're not the problem.
(Which, of course, is still a problem).
I've relayed my frustration with your insider, religious rhetoric, and you responded by cut-and-pasting random Scripture soundbytes about the "Bride of Christ" and the "blood of the Lamb," insisting that the real issue is simply my "biblical ignorance," and suggesting that I just need to repent and get a good Concordance (whatever that is).
I let you know how judged and ridiculed I feel when I'm with you, how much like a hopeless, failing outsider I feel on the periphery of your often inward, judgmental communities, and you proceeded to tell me how "lost" I am, how hopelessly "in love with my sin" I must be to leave you, reminding me that I never really belonged with you anyway.
In the face of every complaint and every grievance, you've made it clear that the real issue is that I'm either sinful, heretical, immoral, foolish, unenlightened, selfish, consumerist or ignorant.
Heck, many days I'm not even sure I disagree with you.
Maybe you're right, Church.
Maybe it is me, but me is all I'm capable of being right now, and that's where I was really hoping you would meet me.