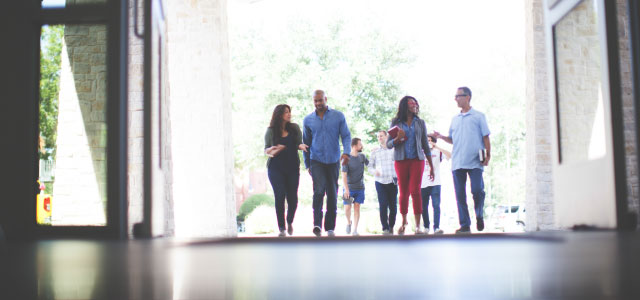 Have you thought about the imperative of launching new churches? Have you felt called? Maybe it's something you've dreamt of, but the logistics of making it happen seemed too daunting. You already have a church—and possibly a thriving one at that—so why would you want to start another one? Why should you be a Launching Church?
The most important factor in the decision to launch a new church is God's leading. In order to start a successful church, you have to know that you are being called to do so. Period. There is no way around this truth. Thriving churches have always been, and always will be, built on a base of specific calling—not personal choice. But once you are certain your call to start another church is from God, you need to start exploring the details. Avoid sitting on the "someday" excuse. The time is now. As Guy Kawasaki writes in The Art of the Start (Portfolio Hardcover), "The hardest thing about getting started is getting started." If God is leading you down this path, pick up and follow.
Churches birthed out of existing, healthy churches have a significant advantage over independent new church plants. You have the experience, support and financial backing of your current staff and congregation. If you lead an outwardly focused church, you are already joined with a team of people who understand the importance of reaching into the community and influencing the unchurched. If your people are growing followers of Jesus, they will likely embrace the idea of being part of a church culture focused on starting new churches. They will want to be a part, on some level, of expanded opportunities to share their faith with other areas of the community.
God's church is meant to multiply, just as it always has. In the early days of church expansion, Paul writes, "The Lord's hand was with them, and a great number of people believed and turned to the Lord" (Acts 11:21). If God is calling your church to be a Launching Church, His hand will be with you just as it was with the early Christians in Acts. The path of least resistance is to keep tending to our little corner of the world—to let ourselves be busied by the daily concerns of running our current churches. But God is calling many of us to something even greater. He is calling us to spread the Gospel even more effectively by multiplying its outlets. He is calling us to touch more unchurched people by taking the truth closer to them. By learning how to biblically and strategically launch new churches, we can grow healthy communities and lead more people toward becoming fully developing followers of Jesus.
KEYS TO LAUNCHING NEW CHURCHES EFFECTIVELY
At the Journey, we seek to help churches start new churches that will reach as many people as possible, as quickly as possible, in the power of the Holy Spirit. In other words, our goal is to equip Launching Churches with everything needed to launch effectively.
Hence, you must create an environment that allows even those new churches to reproduce themselves more quickly. To understand launching effectively, you must also understand three keys—Launching Large, Launching Quickly and Launching from the Outside In. Let me share about each in more detail:
Launching Large
Launching large is the ability of a new church to reach as many people as possible within the first six to eight months of existence. It's also the ability to attain a critical mass early enough in the process to increase the likelihood of survival (most church plants close their doors within two years). Launching Large greatly mitigates this statistic.