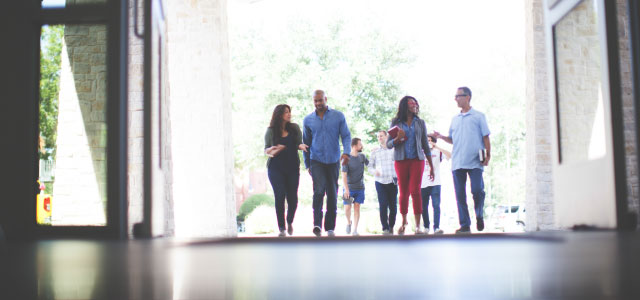 This is an issue of discovering and fulfilling potential. Of course, large is a relative term. It will look different for different churches in different environments. Church is local, and Launching Large is as unique as the area to which God has called you. Areas that are warm to the Gospel may lend to a larger launch than completely unchurched areas. We have also seen the reverse hold true. But don't get too caught up in the numbers. Instead focus on the potential of your area, as you allow the concept of Launching Large to sink in.
At the same time, don't completely underestimate the numbers. Numbers are important in that they represent people and impact in a community. Others have fought the battle of why numbers matter, so I won't argue that here. However, I do believe every person in a community matters to God and needs a spiritual home. And God wants his family to be as large as possible. So, numbers do serve a purpose…not for bragging rights, but as a tool for measuring the expansion of God's kingdom.
Ask yourself, "What would Launching Large look like in my area?" One way to determine a broad answer is to examine what God is already doing in and around your community. When we set out to start The Journey in Manhattan, we had a difficult time finding churches to compare ourselves to, because there had been virtually no successful new churches in the years just before our start. In the New York City culture of 2002, having 110 people at the launch of a new church was significant. Since then, others in the city have launched larger than we did. And, by the way, we are their biggest fans. We understand the truth that God wants to use many churches to reach our city—and yours. This is not a competition.
God's dream for the church you want to launch is bigger than your dream. Launching large is about cooperating with God to see His vision accomplished in an area. Don't underestimate that vision or your church's ability to tap into it. If God is calling you to this task, He's not trying to play hide and seek with His plan. Take a moment and use your sanctified imagination to envision what Launching Large would look like for the church you want to start.
Launching Quickly
Contrary to some schools of thought, healthy churches can also be launched quickly. I fully believe that a new church can begin monthly services within two to three months of finding a strong leader—I've seen it time and time again. From that point, I recommend only three to six months of monthly services until the church launches weekly services. I have found this combination of speed and momentum-building has worked well in new churches around the country.
Some have argued that you can start a new church even more quickly than I've described. Indeed, in many other countries, church planting movements are being launched in less than a week, or even in one day, as discussed in David Garrison's Church Planting Movements (Wigtake Resources). Here in the U.S., however, a slightly longer "build-to-launch" time brings greater health over the long haul. Launching a church is a bit like birthing a baby—the gestation period matters. While a baby can survive a premature birth, he may face long-term consequences. Resist the temptation to launch your replicate too soon.
On the other hand, many propose a long gestation period for a new church, with small gatherings, core groups and high initial commitment on behalf of the early attendees. Some churches stay in this pre-launch stage for a year to eighteen months. The sad reality is that many of these churches never get off the launching pad—there is always going to be a reason to postpone launching the church. Conditions will never be perfect. This slow approach to launching is detrimental to overall church health and to everyone involved—particularly your current congregation, who is championing and supporting this new church. Take the time needed to ensure that you are on a healthy track, but resist the temptation to wait too long to get off the ground.
Launching From the Outside In
Launching Large includes Launching From the Outside In, which is perhaps the most radical of these three keys. It is completely possible to launch a church where the only Christians on the initial team are the staff (pastor, worship leaders and spouses). When starting a new church, you don't have to wait until you can attract a set number of Christians from the area or convince a few Christians from your current location to embrace the vision and relocate. God may want to use those people, or He may not. They are not necessarily required. Throughout history, God has worked through believers and unbelievers alike. Why would your church be any different?