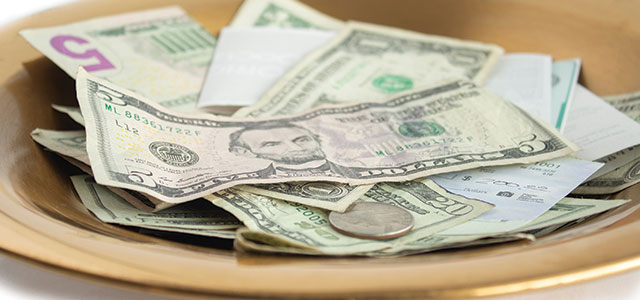 When the church sends a thank you and a financial report in October or November, the thank you feels more genuine and the reminder is very helpful.
What's In The End of Year Giving Letter?
So, what does this letter look like? It's simple.
First, we use the church's financial software to print up a copy of their giving for the year-to-date. Then we write a cover letter with a thank you from the pastor and an explanation of why they're receiving it.
Here's an example of a cover letter from a previous year:
(date)
Hello (recipient's name),
As the calendar year draws to a close, I want to take a moment to thank you for your faithfulness in giving to the ministries of (church name) this year.
The Lord did so much in our church body in (year), and your faithfulness – including your financial giving – has contributed to that. We are truly grateful.
Also, we have found that this is a good time of the year to assess where we are. And our giving is one of those important areas to keep track of. So we've attached your record of giving to (church name) for this year so far. This is not a request for money and we're not billing you for anything. It's just our copy of what your giving has been so far this year so you can compare it to your records.
By sending this out with several weeks still left in the year, everyone gets a chance to work out any differences between our records and your records now, rather than waiting until next year when everyone is under the strain of tax preparation.
And yes, we will still be sending you a giving record for all of (this year) at the beginning of (next year).
So take a look at your banking records, compare it to this record, then call (contact name and info) if your record doesn't match ours. We'll get to work on making it right for you.
Thanks again for your faithfulness in giving,
(Pastor's name and signature)
Snail Mail, Not Email
I highly recommend sending this notice old-school. By the post office. Snail mail, not email.
There's something about the physical paper in their hand that gives this letter the feeling of importance that it deserves.