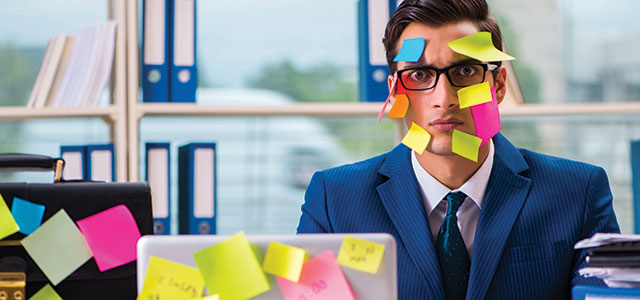 But multitasking that I'm writing about is attempting to do two things simultaneously that requires the focused attention of the executive center of our brain (the pre-frontal cortex), like listening to a podcast and answering email at the same time.
7 Ways Multitasking Negatively Affects Leadership
With that concept in mind, here are 7 ways multitasking negatively affects leadership. Daniel Levitin expands on these concepts in his book. I highly recommend it.
1. Reduced efficiency:
Multitasking is not really multitasking. It's simply switching rapidly from one task to the other and that switching carries a cost. It's called task switching cost. We actually are less efficient with our time when we try to simultaneously do two attentional tasks versus doing them consecutively.
2. Foggy thinking:
Multitasking increased the production of the stress hormone, cortisol. When this happens we get anxious, our brains get overstimulated, and our thinking gets scrambled. This results in foggy thinking.
3. Dopamine addiction:
Multitasking can cause the feel good, reward neurotransmitter dopamine to increase by rewarding our task switching. The brain loves novelty and when we switch tasks and find something novel in that switch, we get a tiny feel good boost. An example is that while you're preparing a sermon or talk, you tell yourself, "I'll just quickly check Facebook to see if I see something interesting." If you do see something interesting it reinforces this pattern of distraction because it feels good. And then when you get back to your sermon prep, you again experience the cost of that task switch. It's the, "Hmmm, now where was I?" As Dr. Levitin writes, "Instead of reaping the big rewards that come from sustained, focused attention, we instead reap empty rewards from completing a thousand little sugarcoated tasks." (p. 97)