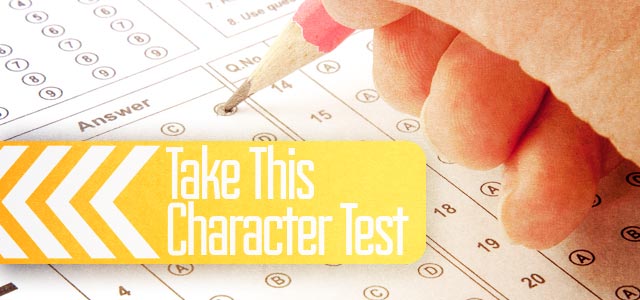 So how are you really doing when it comes to your character development?
It can be a bit difficult to tell, can't it?
Character, like so many things, seems hard to measure. It would be great if you could get a simple reading like you would for your cholesterol or blood pressure. Then you'd know.
Over my time in leadership, I've discovered a simple test that tells me more than anything where my character is truly at.
And often, I'm not thrilled with the results.
It's so simple you could do it in less than a minute.
Let me explain.
The Test
The best way I know to assess the state of my character is to simply analyze how I responded during the last crisis I found myself in.
It could be a crisis at home, at work, in my family—or any situation in which I had to respond quickly to conflict or less than ideal circumstances.
The test?
Watch how you responded to the crisis. It will tell you exactly where your character is at.
So, how did you react the last time …
Your kids melted down in the back seat?
Your spouse got defensive when you suggested some things to do on Saturday?
Your ideas got shot down at the meeting?
You showed up Sunday, and a key element for the service was missing because someone else messed up?
Your computer crashed, and you lost the last 30 minutes of work?
You got stuck in the longest line at the grocery store, and it made you late for your next meeting?
You read that email criticizing your leadership?
Be honest.
What did you think?
What did you say?
What did you do?
Boom. There's the true state of your character.