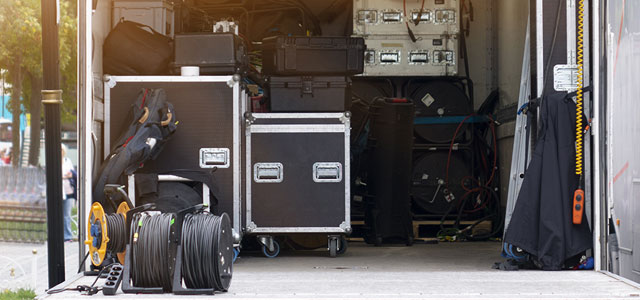 Also if you live in an area with severe climate either hot or cold, you will then have to store your equipment in a temperature controlled space. Extreme heat or cold is not good on your gear.
So you may need a utility trailer, and a storage facility if you do not have on-site storage capacity.
Mobility and Safety
Another consideration is how you are going to move your equipment and how you will protect it.
You are probably going to need some equipment carts and some equipment cases. Equipment carts will help you move your equipment to where it is going to be used. For instance, if the stuff is going to be used on the stage, then you need a cart designated for that area and another cart for the equipment at the back near the mixer and computers.
The same holds true if you also have a portable children's ministry and a portable welcome table.
Portable Church Equipment List
Here is a checklist of all the equipment you will need. At the end of the list will be a link for you to download a pdf of this list for your use offline.
SOUND SYSTEM
MULTIMEDIA
STAGE
WELCOME TABLE
CHILDREN'S MINISTRY
Mixer
Computer
Stage Component
Table
Supplies
Microphones
Projector
Stage Backdrop
Brochure Holders
Paging System
Speakers
Screen
Stage Banners
Gift Bags
Video Player
Monitors
Flat Screen Monitor
Pulpit
Supplies
Monitor
Snake
Camera
Stage Stairs
Cart
Accessories
For a convenient checklist of all these items click here for a pdf download.